Debates in allergy medicine: food intolerance does not exist
World Allergy Organization Journal
2015
8:88
Received: 30 July 2015
Accepted: 25 November 2015
Published: 14 December 2015
Abstract
Background
The term "intolerance" is not mentioned in the World Allergy Organization (WAO) document on allergy nomenclature. "Intolerance" has been used to describe some non-immunological diseases. However, pediatric gastroenterologists mix allergy and intolerance, e.g. by using the term "cow's milk protein allergy/intolerance (CMPA/I)", lumping together all types of mechanisms for not tolerating cow's milk. The basis for this mix is the fact that double-blind oral food challenges are time-consuming and expensive. Therefore, cow's milk exclusion and reintroduction is proposed to be used in primary care for the diagnosis of CMPA in children with common gastrointestinal (GI) problems such as colic and constipation. This may lead to a widespread use of hypoallergenic formulas in children without proven CMPA. In lay language, intolerance describes "not tolerating".
Objective
To discuss the reasons why the term "intolerance" should not be used in the area of allergy.
Results
Presently, intolerance is not part of the allergy nomenclature. It is used by lay persons to describe "not tolerating". Pediatricians use intolerance to describe non-immunological hypersensitivity such as lactose intolerance which is acceptable. However, using the mixed term CMPA/I describing a variety of gastrointestinal symptoms in children, should be avoided. The WAO Nomenclature does not clearly distinguish between non-IgE-mediated allergy and non-allergic hypersensitivity.
Conclusion
The term "intolerance" should not be used within the area of allergy. Intolerance should be better defined and the term restricted to some non-immunological/non-allergic diseases and not mixed with allergy, e.g. by using the term CMPA/I. A revision of the WAO nomenclature is proposed.
Keywords
NomenclatureImmunologically mediated hypersensitivityAllergyNon-immunologic hypersensitivityNon-allergic hypersensitivityIntoleranceIgE sensitizationNon-IgE-mediated allergyIgE-mediated allergyCell mediated allergy
Background
When asked to write the "con" paper for the Journal entitled "Food intolerance does not exist", I felt it was a rather simple task. According to the World Allergy Organization (WAO) agreement on allergen nomenclature [
1
], intolerance does not exist. The nomenclature agreement is based on mechanisms. Hypersensitivity is either non-immunological or immunological, i.e. allergy. Allergy can be either IgE-mediated or due to other mechanisms. The WAO document does not go into detail and leaves out subdivision of non-allergic hypersensitivity. The nomenclature agreed upon seems straightforward and non-controversial. The basic principle is illustrated in Fig.
1
.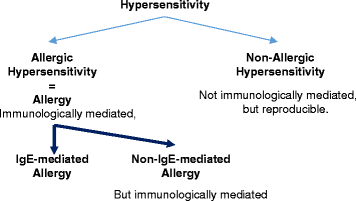 Conclusion
Intolerance does not exist.
However, despite the fact that allergists do not use intolerance to describe allergy or allergic diseases, the word intolerance is used by gastroenterologists and lay persons, which should be discussed in this context.
Conclusions
Intolerance does not exist within the area of allergy and should not be part of the allergy/immunological hypersensitivity nomenclature.

The mixed term "cow's milk protein allergy/intolerance" (CMPA/I) should be actively counteracted in collaboration with related societies.

Intolerance is proposed to indicate gastrointestinal lack of enzyme-causing GI symptoms (lactose, fructose, sucrose intolerance).

Intolerance or any other easily recognized term should be added to non-allergic/ non-immunologic hypersensitivity which is too awkward to be generally accepted. This action will clearly separate non-IgE-mediated hypersensitivity/allergy from non-immunologic hypersensitivity (/intolerance).

Non-IgE-mediated hypersensitivity/allergy should be given a shortened name.
Other terms often used in discussions on allergy, such as "tolerance", "sensitization" vs. "clinical allergy" and "de-sensitization", should be better defined.
Declarations
Participation in the paper
I have been the only writer and responsible for the final manuscript.
Open AccessThis article is distributed under the terms of the Creative Commons Attribution 4.0 International License (http://creativecommons.org/licenses/by/4.0/), which permits unrestricted use, distribution, and reproduction in any medium, provided you give appropriate credit to the original author(s) and the source, provide a link to the Creative Commons license, and indicate if changes were made. The Creative Commons Public Domain Dedication waiver (http://creativecommons.org/publicdomain/zero/1.0/) applies to the data made available in this article, unless otherwise stated.
Authors' Affiliations
(1)
Women's and Children's Health, University of Uppsala, Uppsala, Sweden
References
Johansson SG, Bieber T, Dahl R, Friedmann PS, Lanier BQ, Lockey RF, et al. Revised nomenclature for allergy for global use: Report of the Nomenclature Review Committee of the World Allergy Organization, October 2003. J Allergy Clin Immunol. 2004;113(5):832–6.View ArticlePubMedGoogle Scholar
Vandenplas Y, Gottrand F, Veereman-Wauters G, De Greef E, Devreker T, Hauser B, et al. Gastrointestinal manifestations of cow's milk protein allergy and gastrointestinal motility. Acta Paediatr. 2012;101(11):1105–9. doi:10.1111/j.1651-2227.2012.02808.x.View ArticlePubMedGoogle Scholar
Vandenplas Y, Gutierrez-Castrellon P, Velasco-Benitez C, Palacios J, Jaen D, Ribeiro H, et al. Practical algorithms for managing common gastrointestinal symptoms in infants. Nutrition. 2013;29(1):184–94. doi:10.1016/j.nut.2012.08.008.View ArticlePubMedGoogle Scholar
Vandenplas Y, Group AS, Steenhout P, Grathwohl D. A pilot study on the application of a symptom-based score for the diagnosis of cow's milk protein allergy. SAGE open medicine [Internet]. 2014:2. doi:2050312114523423 (http://smo.sagepub.com/content/2/2050312114523423.full).
Vandenplas Y, Dupont C, Eigenmann P, Host A, Kuitunen M, Ribes-Koninckx C, et al. A workshop report on the development of the Cow's Milk-related Symptom Score awareness tool for young children. Acta Paediatr. 2015;104(4):334–9. doi:10.1111/apa.12902.View ArticlePubMedGoogle Scholar
Vandenplas Y, Alarcon P, Alliet P, De Greef E, De Ronne N, Hoffman I, et al. Algorithms for managing infant constipation, colic, regurgitation and cow's milk allergy in formula-fed infants. Acta Paediatr. 2015;104(5):449–57. doi:10.1111/apa.12962.View ArticlePubMedGoogle Scholar
Dreborg S, Heine RG, Høst A, Varga E-A, Pettoello-Mantovani M, Çokugras H, et al. The management of food allergy in infants with special emphasis on cow's milk allergy. European Paediatric Association Newsletter. 2012-04-10 ed: EPA; 2012. p. 1–2Google Scholar
Koletzko S, Niggemann B, Arato A, Dias JA, Heuschkel R, Husby S, et al. Diagnostic approach and management of cow's-milk protein allergy in infants and children: ESPGHAN GI Committee practical guidelines. J Pediatr Gastroenterol Nutr. 2012;55(2):221–9. doi:10.1097/MPG.0b013e31825c9482.View ArticlePubMedGoogle Scholar
Johansson SG, Hourihane JO, Bousquet J, Bruijnzeel-Koomen C, Dreborg S, Haahtela T, et al. A revised nomenclature for allergy. An EAACI position statement from the EAACI nomenclature task force. Allergy. 2001;56(9):813–24.View ArticlePubMedGoogle Scholar
Gell PGH, Coombs RRA. The classification of allergic reactions underlying disease. In: Coombs RRA, Gell PGH, editors. Clinical Aspects of Immunology. London: Blackwell Science; 1963.Google Scholar
Uzzaman A, Cho SH. Chapter 28: Classification of hypersensitivity reactions. Allergy Asthma Proc. 2012;33 Suppl 1:S96–9. doi:10.2500/aap.2012.33.3561.View ArticlePubMedGoogle Scholar
Wikipedia. Intolerance, Medical/biological. Wikipedia. 2015. http://en.wikipedia.org/wiki/Intolerance#Medical.2Fbiological. Accessed April 23rd 2015.
Wiktionary. Food Intolerance. Wiktionary. 2015. http://en.wiktionary.org/w/index.php?title=Special:Search/food_intolerance&go=Go. Accessed May 20th 2015.
Nowak-Wegrzyn A, Katz Y, Mehr SS, Koletzko S. Non-IgE-mediated gastrointestinal food allergy. J Allergy Clin Immunol. 2015;135(5):1114–24. doi:10.1016/j.jaci.2015.03.025.View ArticlePubMedGoogle Scholar