WAO position paper

Open Access
Diagnosis and Treatment of Urticaria and Angioedema: A Worldwide Perspective
Mario Sánchez-Borges

1, 16

Email author

,

Riccardo Asero

2,

Ignacio J Ansotegui

3,

Ilaria Baiardini

4,

Jonathan A Bernstein

5,

G Walter Canonica

4,

Richard Gower

6,

David A Kahn

7,

Allen P Kaplan

8,

Connie Katelaris

9,

Marcus Maurer

10,

Hae Sim Park

11,

Paul Potter

12,

Sarbjit Saini

13,

Paolo Tassinari

14,

Alberto Tedeschi

15,

Young Min Ye

11,

Torsten Zuberbier

10 and

the WAO Scientific and Clinical Issues Council
World Allergy Organization Journal
2012
5:29
Published: 15 November 2012
Abstract
Urticaria and angioedema are common clinical conditions representing a major concern for physicians and patients alike. The World Allergy Organization (WAO), recognizing the importance of these diseases, has contributed to previous guidelines for the diagnosis and management of urticaria. The Scientific and Clinical Issues Council of WAO proposed the development of this global Position Paper to further enhance the clinical management of these disorders through the participation of renowned experts from all WAO regions of the world. Sections on definition and classification, prevalence, etiology and pathogenesis, diagnosis, treatment, and prognosis are based on the best scientific evidence presently available. Additional sections devoted to urticaria and angioedema in children and pregnant women, quality of life and patient-reported outcomes, and physical urticarias have been incorporated into this document. It is expected that this article will supplement recent international guidelines with the contribution of an expert panel designated by the WAO, increasing awareness of the importance of urticaria and angioedema in medical practice and will become a useful source of information for optimum patient management worldwide.
Keywords
urticariaangioedema
Ratification by Voting Member Societies of the World Allergy Organization October 2012
Albanian Society of Allergology and Clinical Immunology
American Academy of Allergy, Asthma and Immunology
American College of Allergy, Asthma and Immunology
Argentine Association of Allergy and Clinical Immunology
Argentine Society of Allergy and Immunopathology
Australasian Society of Clinical Immunology and Allergy
Austrian Society of Allergology and Immunology
Azerbaijan Society for Asthma, Allergy and Clinical Immunology
Brazilian Society of Allergy and Immunopathology
British Society for Allergy and Clinical Immunology
Bulgarian National Society of Allergology
Canadian Society of Allergy and Clinical Immunology
Colombian Allergy, Asthma, and Immunology Association
Croatian Society of Allergology and Clinical Immunology
Cuban Society of Allergology
Czech Society of Allergology and Clinical Immunology
Danish Society for Allergology
Dutch Society of Allergology
Egyptian Society of Allergy and Clinical Immunology
Egyptian Society of Pediatric Allergy and Immunology
Finnish Society of Allergology and Clinical Immunology
German Society for Allergology and Clinical Immunology
Honduran Society of Allergy and Clinical Immunology
Hong Kong Institute of Allergy
Hungarian Society of Allergology and Clinical Immunology
Icelandic Society of Allergy and Immunology
Indian College of Allergy, Asthma and Applied Immunology
Indonesian Society for Allergy and Immunology
Israel Association of Allergy and Clinical Immunology
Italian Society for Allergology and Clinical Immunology
Japanese Society of Allergology
Jordanian Society for Allergy and Clinical Immunology
Korean Academy of Allergy, Asthma and Clinical Immunology
Kuwait Society of Allergy and Clinical Immunology
Latvian Association of Allergists
Lebanese Society of Allergy and Immunology
Malaysian Society of Allergy and Immunology
Mexican College of Pediatricians Specialized in Allergy and Clinical Immunology Mongolian Society of Allergology
Norwegian Society of Allergology and Immunopathology
Panamanian Association of Allergology and Clinical Immunology.
Philippine Society of Allergy, Asthma and Immunology
Polish Society of Allergology
Romanian Society of Allergology and Clinical Immunology
Russian Association of Allergology and Clinical Immunology
(Singapore) Allergy and Clinical Immunology Society of Singapore
Slovenian Association for Allergology and Clinical Immunology
(South Africa) Allergy Society of South Africa
Spanish Society of Allergology and Clinical Immunology
(Sri Lanka) Allergy and Immunology Society of Sri Lanka
Swiss Society of Allergology and Immunology
(Thailand) Allergy, Asthma and Immunology Society of Thailand
Turkish National Society of Allergy and Clinical Immunology
Uruguayan Society of Allergology
Venezuelan Society of Allergy and Immunology
Contributing Regional Member Societies
American Academy of Allergy, Asthma and Immunology
American College of Allergy, Asthma and Immunology
Asia Pacific Association of Allergy, Asthma and Clinical Immunology
European Academy of Allergy and Clinical Immunology
Latin American Society of Allergy and Immunology
Introduction
Urticaria is a highly prevalent condition resulting in large numbers of medical consultations worldwide. Its prevalence ranges between 0.3 and 11.3% depending on the study population (see Prevalence section), and in recent years, an increase in the rate of hospitalizations due to urticaria and angioedema has been observed in some countries [1]. It has been estimated that approximately 20% of the population will experience an episode of acute urticaria (AU) at some point in their lifetime.
Although urticaria has a tremendous impact on patient's quality of life, it is often disregarded as a trivial disease by many physicians [2]. Therefore, patients are not adequately educated on the nature of their condition and its proper management, which involves not only pharmacological treatment but also the implementation of preventive measures to reduce the effects of various precipitating and aggravating factors.
This position paper provides updates on recent advances in the understanding of etiologic factors, pathogenic mechanisms, diagnostic methods, and medical management of acute and chronic urticaria (CU) and angioedema.
World allergy organization global position papers
The World Allergy Organization (WAO) is an international federation of 89 regional and national allergy and clinical immunology societies dedicated to raising awareness and advancing excellence in clinical care, research, education, and training in allergy and clinical immunology. This WAO position paper on the diagnosis and treatment of urticaria and angioedema was developed as a document presenting a worldwide perspective encompassing the participation and input of leaders from all WAO regional member societies.
This position paper includes sections on the definition, prevalence, classification, mechanisms, diagnosis, treatment, and prognosis of urticaria and angioedema. In addition, special chapters dealing with particularly important issues have been included to review physical urticarias, urticaria in childhood, urticaria and pregnancy, and quality of life and patient-reported outcomes (PROs). The concept of disease control for CU, similar to other chronic allergic diseases such as asthma and rhinitis, is highlighted and the importance of patient education on the possible mechanisms, causes, prognosis, and treatment of acute and CU is emphasized.
National and regional guidelines for the diagnosis and treatment of urticaria and angioedema have been previously published [3–5]. Because urticaria and angioedema are a frequent cause for consultation not only in allergology clinics but also in general practitioners' offices, and these diseases are often underestimated by physicians, it was important to provide useful orientations for the management of these vexing conditions.
The objectives of this WAO position paper on urticaria and angioedema are to provide updated information on the assessment and treatment that should be applied in health care settings worldwide to obtain a better symptom control, improve patients' quality of life, contribute to patient education, and enhance accessibility to more effective therapies. This information is designed for use by both allergy and immunology specialists as well as physicians in general practices who daily observe patients with urticaria and angioedema.
Methods
This position paper was developed by a special steering committee of internationally recognized experts appointed by the WAO Scientific and Clinical Issues Council.
Recommendations are based on the best evidence presently available. Urticaria and angioedema guidelines previously published in indexed peer-reviewed journals were reviewed. Drafts were developed through e-mail correspondence among authors, distributed to all members of WAO Board of Directors for comment, and then circulated to WAO Member Societies for review, comments, and approval. In all, more than 50 allergy and immunology specialists on 5 continents contributed to the development of this position paper.
Definition and Classification
Urticaria is characterized by the sudden appearance of wheals and/or angioedema, defining wheals as a cutaneous swelling of variable size, almost invariably surrounded by a reflex erythema, with associated itching or, sometimes, a burning sensation, and of transient nature, with the skin returning to its normal appearance in usually 1 to 24 hours.
Angioedema can be defined as a sudden and pronounced swelling of the deep dermis and subcutaneous tissue or mucous membranes, with a painful rather than an itching sensation and a slower resolution than for wheals that can take up to 72 hours [4, 6].
Classification
Urticaria can be classified on the basis of its duration and in the presence or absence of inducing factors (induced vs spontaneous).
Duration
AU is characterized by the occurrence of hives and/or angioedema for < 6 weeks, whereas episodes lasting longer than 6 weeks are regarded as CU [
7
]. This somewhat arbitrary distinction of 6 weeks becomes important in regard to potential mechanisms, approaches to evaluation, and options for treatment. The classification of urticaria is presented in Table
1
.
Table 1
Classification of Urticaria Subtypes (Presenting With Wheals and/or Angioedema) Based on the Different Eliciting Stimuli
| Types | Subtypes | Definition |
| --- | --- | --- |
| Spontaneous urticaria | Acute spontaneous urticaria | Spontaneous wheals and/or angioedema < 6 wk |
| | Chronic spontaneous urticaria | Spontaneous wheals and/or angioedema > 6 wk |
| Urticarias induced by physical agents | Cold contact urticaria | Eliciting factor: cold objects/air/fluids/wind |
| | Delayed pressure urticaria | Eliciting factor: vertical pressure (wheals arising with a 3-12 h latency) |
| | Heat contact urticaria | Eliciting factor: localized heat |
| | Solar urticaria | Eliciting factor: UV and/or visible light |
| | Urticaria factitia/dermographic urticaria | Eliciting factor: mechanical shearing forces (wheals arising after 1-5 min) |
| | Vibratory urticaria/angioedema | Eliciting factor: vibratory forces, e.g. pneumatic hammer |
| Other inducible urticarias | Aquagenic urticaria | Eliciting factor: water |
| | Cholinergic urticaria | Elicitation by increase of body core temperature due to physical exercises, spicy food |
| | Contact urticaria | Elicitation by contact with urticariogenic substance |
| | Exercise-induced anaphylaxis/urticaria | Eliciting factor: physical exercise |
Urticaria pigmentosa (cutaneous mastocytosis), urticarial vasculitis, familial cold urticaria, and nonhistaminergic angioedema (eg, hereditary or acquired C1 esterase inhibitor deficiency) are no longer considered as subtypes of urticaria, due to their distinctly different pathomechanisms [4].
Finally, there are syndromes that can be associated with wheals:
Prevalence
The prevalence of urticaria and angioedema varies according to the population under investigation. Lifetime prevalence rates of 8.8% have been reported, with a 1.8% rate for CU [12]. Approximately 10 to 20% of the population will experience an episode of AU at some point in their lifetime, and 0.1% will develop chronic spontaneous urticaria [13].
In a study carried out in Spain, the prevalence of urticaria in the past 12 months was 0.8%, and the prevalence of CU was 0.6%. Urticaria was present more often in female patients among the 35 to 60 years age-group (mean age, 40 years). Duration of the disease was 1 to 5 years in 8.7% of the patients and more than 5 years in 11.3% [14].
Autoimmune disturbances are present in 40 to 45% of patients with chronic spontaneous urticaria [15]. Angioedema is present in 40 to 50% of cases of chronic spontaneous urticaria, 10% of patients experience only angioedema without hives and 40% exhibit wheals alone [6, 13, 16]. Recently, an increase in the rate of hospital admissions for angioedema (3.0% per year), and urticaria (5.7% per year) has been observed in Australia. Admissions for urticaria were 3 times higher in children aged 0 to 4 years. The greatest increase in hospitalizations for urticaria was present in those aged 5 to 34 years (7.8% per year), and for angioedema, it was higher in patients 65 years and older [1]. It is not known if this increase has occurred in other countries.
Etiology and Pathogenesis
Symptoms of chronic spontaneous urticaria appear seemingly spontaneously, that is, in most patients, there is no identifiable exogenous stimulus for hive production. In some patients, however, nonspecific exogenous triggers for the development of wheals and/or angioedema, such as exercise, environmental changes, and stress are present. We now consider this group to be chronic "spontaneous" urticaria [4, 17]; thus, if an etiology is to be found, it is likely to be endogenous, leading to the resultant cutaneous inflammation that is expressed as a hive.
Diagnostic Approach to Urticaria
The goal of diagnostic measures is to (1) identify urticaria type and subtype and (2) identify underlying causes (in long-standing or severe chronic sponganeous urticaria only). Urticaria of either acute or chronic type is a common disease that manifests with heterogeneous phenotypes. It poses a high socioeconomic burden for patients [70]. In general, a limited initial workup is indicated, unless the clinical history dictates otherwise.
AU is more common than the chronic form and is associated with a rapid recovery, but the identification of its etiology can be helpful to prevent recurrence especially when allergy is suspected to be the cause. Although chronic spontaneous urticaria has various etiologies and subtypes, routine patient evaluation comprising the careful acquisition of patient history, physical examination, and ruling out of systemic diseases should be considered. Specific provocation and laboratory tests are needed to confirm the underlying causes whenever the clinical history is supportive. These extensive diagnostic procedures should be considered on an individual basis in patients with long-standing, severe, or persistent urticaria.
Diagnostic Approach for Patients With Acute Spontaneous Urticaria
Although both a detailed history and physical examination remain essential, the etiology of acute spontaneous urticaria can be suggested by a patient's history. Upper respiratory tract and viral infections are the most common etiology in children. Foods and drugs such as antibiotics and nonsteroidal anti-inflammatory drugs (NSAIDs)[71] can be considered for both adults and children. In general, diagnostic workup is indicated only when type I allergy is suspected to be the underlying cause of acute spontaneous urticaria.
Diagnostic Approach in Patients With CSU
In patients with CSU, it is necessary to obtain a thorough history, including all possible eliciting factors, and to identify the significant aspects of the disease. This initial assessment is helpful in the identification of the subtype of urticaria (acute vs chronic, spontaneous vs induced). The overall duration of CSU is likely to be longer in patients with high disease severity, angioedema, positive autologous serum skin test (ASST) results, or comorbidity with physical urticaria. Next, the impact of the disease on the patient and the disease activity should be evaluated using the urticaria activity score and the CU quality of life questionnaire (see Quality of Life and Patient-Reported Outcomes). The patient should be asked about the time of onset; frequency and duration of wheals; presence of diurnal variation; shape, size, and distribution of wheals; associated angioedema; family and personal history of urticaria; atopy; medications (NSAIDs, hormones, laxatives, immunizations); and observed correlation with food and stress. The first step is to exclude major comorbid disorders and physical urticaria, and the second step is to identify the underlying cause. Patient questioning together with physical examination and laboratory and provocation tests may be useful to identify associated diseases and comorbidities, and in some cases, the underlying cause. Routine laboratory testing in the absence of a clinical history is rarely helpful in determining an etiology for patients with CSU [72, 73]. Nevertheless, expert opinion differs in regards to the number and type of testing appropriate for patients with CSU.
Routine hematological tests, including complete blood count and liver function tests, the determination of erythrocyte sedimentation rate, and C-reactive protein levels may be considered. The role for infectious agents such as Helicobacter pylori in the causation of chronic urticarial is controversial, and the evidence is weak and conflicting [74]. Screening for thyroid autoimmunity may be considered. Although type I allergies are a very rare cause of CSU, the IgE-mediated mechanism may be considered in patients with intermittent symptoms. For differential diagnosis from patients with angioedema alone without wheals, the measurement of C4 and C1 esterase inhibitor levels may be necessary. About one third of CSU patients have aspirin/NSAID hypersensitivity, and oral provocation tests with aspirin are available to confirm this if needed [71]. Some CSU patients improve with a food-additive-free diet, and challenge tests with food additives may be necessary [18]. The ASST is the only generally available test to screen for autoantibodies against either IgE or the high-affinity IgE receptor. Autoimmune urticaria responds poorly to H1 antihistamines and often manifests as severe CSU. However, some studies have demonstrated low sensitivity of the ASST with a high false-positive rate. The basophil HR test is more refined but is also insufficiently sensitive to be applied routinely. The diagnostic workup should include physical stimulation tests if physical urticaria is suspected. Ice cube or cold water tests are used widely for cold urticaria, and exercise challenge tests are used for cholinergic and exercise-induced urticaria. To improve outcomes for CSU patients, quality of life and psychiatric comorbidity should be considered. A skin biopsy may be needed to confirm urticarial vasculitis and Schnitzler syndrome.
Treatment
Leukotriene Receptor Antagonists
The effectiveness of these drugs has been reported in several relatively small, randomized, double-blind studies,[108–112] but the results have been inconsistent [113]. A recent review on this issue concluded that leukotriene receptor antagonists might be effective in subsets of patients with CSU associated with aspirin or food additive intolerance or positive on ASST but not in other patients with chronic spontaneous urticaria,[114] although other studies do not seem to support this view [115]. Altogether, existing evidence of their effectiveness is limited, and the grade of recommendation for their use is low. Nonetheless, these drugs may be tried in patients unresponsive to antihistamines in view of their excellent safety profile.
Corticosteroids
Although it is clinically recognized that oral corticosteroids are effective for H1-antihistamine-resistant CU, controlled studies are lacking [117]. In view of the potentially severe side effects associated with long-term treatment, oral corticosteroids should be used for short periods and at the minimally effective dose necessary to achieve control. There is no consensus on the dose and duration of oral corticosteroids for the management of CU, but some recommended approaches about short-term therapy have been published [117]. Attempts should be made to find alternative agents to control urticaria to avoid long-term corticosteroid use. In rare patients, long-term corticosteroid use may be justified; however, patients should be monitored closely for adverse effects of corticosteroid therapy.
One published protocol suggests using prednisone 15 mg daily (preferably 10 mg) and decrease by 1 mg (using 1-mg tablets) each week. Considerable efficacy can be achieved, and subsequent responsiveness to other modalities can be enhanced. If higher doses are needed to significantly lessen symptoms, the drug should not be used [15, 117]. In conclusion, corticosteroids should be used sparingly only when all other therapies failed, until other controller therapies can be found that control the hives.
Anti-Inflammatory Agents
Although the evidence for efficacy in the treatment of CU for many of the following anti-inflammatory agents is limited, the favorable cost and relatively safe side effect profiles warrant their consideration before using more expensive or more toxic agents.
Immunosuppressive Agents
Calcineurin Inhibitors
Case reports and case series have described benefit of cyclosporine to patients with CU unresponsive to antihistamines [142–144]. There are 4 published randomized, double-blinded, controlled trials investigating the therapeutic utility of cyclosporine for patients with CU/angioedema who had failed second-generation antihistamines [145–148]. Although the results of these studies show favorable effects, the side effects of this agent may outweigh its benefits. Further research is necessary to determine the effect of cyclosporine in the treatment of more well-defined refractory CU patients. The optimal dose of cyclosporine has not been adequately delineated. Investigators have initiated therapy using both higher doses (eg, 3-5 mg/kg per day) versus lower doses (200 mg/day). During the treatment period, blood pressure, kidney function, and liver function should be regularly monitored. In a follow-up study after stopping cyclosporine, complete remission lasted up to 9 months in about 50% of patients and a decreased number of flare-ups and a restored response to antihistamine treatment was observed in some subjects [148]. Recently, a low-dose, long-term maintenance therapy for up to 2 years has been suggested for those who show a marked propensity to relapse after discontinuation [149].
Tacrolimus, another calcineurin inhibitor, has been reported in an observational study to be effective in CU patients unresponsive to antihistamines, one of which was also unresponsive to cyclosporine [150].
Other Immunosuppresive Agents
Several other immunosuppressive drugs, including methotrexate, cyclophosphamide, azathioprine, sirolimus, and mycophenolate mofetil, have been used to treat H1-antihistamine-resistant CU. However, most experience relies on case reports or single-center uncontrolled studies. Two recent retrospective studies have been published showing that methotrexate at a weekly mean dosage of 15 mg is effective and safe in the majority of CU patients who are not responsive to conventional therapy [151, 152]. According to Perez et al,[151] methotrexate exerts anti-inflammatory and immunosuppressive effects and may therefore benefit CU independently of the pathogenic mechanism, whether associated with autoantibodies. The efficacy of intravenous and oral cyclophosphamide [153, 154] and azathioprine [155] has been demonstrated in case reports who had antihistamine-resistant CU and were positive on ASST. Both drugs have been successfully employed in the treatment of urticarial vasculitis [156]. Mycophenolate mofetil seems to be a useful treatment option for patients with CU who do not respond to antihistamines and/or corticosteroids with experience limited to observational studies [157, 158].
Biological Agents
Omalizumab
Recently, a growing number of studies evaluating the effectiveness of omalizumab (humanized monoclonal anti-IgE antibodies) in different subsets of antihistamine unresponsive CU/angioedema patients have been reported [36, 39, 159–166]. Although the current experience with omalizumab in the treatment of CU is encouraging, rare cases of omalizumab failure have been reported [167]. Several multicenter, randomized, placebo-controlled, dosing studies are still in progress to assess the role of this agent, but some have very recently appeared in the literature [38, 40]. Efficacy and side effect profile potentially make omalizumab the future drug of choice for refractory chronic spontaneous urticaria. The main limitations of omalizumab treatment include limited availability, high-cost, and long-term clinical benefits.
Intravenous Immunoglobulin
Success in CU was first reported in an open-label trial of 10 CU patients with positive ASST and basophil HR tests who failed other therapies at a dose of 0.4 g/kg per day for 5 consecutive days [168]; 9 of 10 patients improved with 3 patients experiencing prolonged remission after a 3-year follow-up. Other case reports and case series have found intravenous immunoglobulin (IVIG) to be effective,[169, 170] whereas others have not [171, 172]. IVIG can be dosed in several ways, but the optimal dose, number of infusions, and frequency are not fully delineated. One study using low-dose IVIG (0.15 g/kg every 4 weeks) resulted in an improvement in 26 of 29 patients including 19 who experienced complete remission [173]. IVIG may be effective for delayed pressure urticaria and angioedema,[174] solar urticaria,[175] and urticarial vasculitis [176]. IVIG is relatively safe with predictable infusion-related adverse reactions including headache, myalgias, and nausea and rarely anaphylaxis, aseptic meningitis, or renal failure. In general, IVIG should be reserved for patients refractory to other alternative therapies.
Other Therapies
Anticoagulants have recently been found to be effective in patients with refractory CU [50–52, 177–180]. One recent study reported that low-molecular weight heparin was effective in a subset of refractory CU patients with elevated D-dimer levels [181]. Despite this increasing evidence, anticoagulant therapy cannot be presently recommended as a routine treatment for CU.
Other therapies have been reported as cases or case series for the treatment of CU, and very little information is known about their effectiveness and therefore is not recommended for routine use. These treatments include theophylline, androgens, β-agonists, nonsteroidal antinflammatory drugs, tumor necrosis factor-α inhibitors, calcium channel blockers, gold, plasmapheresis,[32] phototherapy, and autohemotherapy.
Note about the quality of evidence and strength of recommendation grading
All existing systems to grade the quality of evidence and the strength of recommendations have their own weaknesses. In the present article, the GRADE system [
182
] has been adopted. One of the problems of this system is that in its original form, it has only 2 strengths of recommendation, that is, weak or strong. Thus, to indicate which "weak recommendations" are stronger than others (ie, have a recommendation in between weak and strong or in other words "moderate") the special notation "**" has been adopted (see Table
2
).
Table 2
Quality of Evidence and Strength of Recommendation for Use of Intervention Based on the GRADE System [182] (Updated to August, 2011)
| Drug | Quality of Evidence | Strength of Recommendation |
| --- | --- | --- |
| Second-generation antihistamines (at licensed doses) | High | Strong (+) |
| First-generation antihistamines | High | Strong (-) |
| Second-generation antihistamines (at higher than licensed doses) | Moderate | Weak (+) |
| Anti-H2-antihistamines as add-on therapy | Moderate | Weak (+) |
| Oral corticosteroids (short course) | Low | Weak (+) |
| Oral corticosteroids | Very low | Strong (-) |
| Leukotriene receptor antagonists (as add-on therapy) | Low | Weak (+) |
| Anti-inflammatory agents (dapsone, sulfasalazine, hydroxychloroquine, colchicines, mycophenolate mofetil) | Low-very low | Weak (+) |
| Immunosuppressive agents | | |
|    Cyclosporine | Moderate | Weak (+)* |
|    Methotrexate | Very low | Weak (+) |
|    Cyclophosphamide | Very low | Weak (+) |
| Biologic agents | | |
|    Omalizumab, | Moderate | Weak (+)* |
|    IVIG | Low | Weak (+) |
The prognosis of urticaria and angioedema
The prognosis of AU is excellent, with most cases resolving within days; however, the prognosis of CU is variable. If angioedema is present, the prognosis is worsened (see below). CU is more common in adults and unusual in children.
Acute urticaria
Few studies are available on the prognosis of AU [183, 184]. Two studies indicated that 20 to 30% of young children with AU are at the risk of chronic or recurrent urticaria [185–187]. More concerning than repeated episodes of AU is the progression of the disease to CU [188, 189].
Hospital admissions for urticaria were approximately 3 times higher in children aged 0 to 4 years than for other ages. Between 1993-1994 and 2004-2005, there were significant increases in the rate of hospital admissions for urticaria in all ages [1].
In adults, longer disease duration is an important risk for poorer prognosis [190]. AU causes discomfort, but not mortality, unless associated with angioedema of the upper airways [191–193]. Morbidity depends on severity and duration. One study found urticaria patients can have as much psychological, social, and occupational distress as patients awaiting triple coronary artery bypass surgery [194]. If a patient continues to be exposed to a trigger, urticaria may become chronic.
Chronic Urticaria
Studies in multiple countries report complete resolution in approximately one third of patients with idiopathic CU for more than 1 to 5 years and partial improvement in another third [195].
Spontaneous remission occurs in 30 to 50% of patients within 1 year, and another 20% within 5 years. Nearly 20% of patients still have symptoms after 5 years. Almost half of patients with CU lasting 6 months are likely to have wheals 10 years later [196]. Those with more severe symptoms may have longer lasting disease. A retrospective study of 372 patients with severe urticaria described resolution of symptoms in 29% of patients after 5 years and 44% after 10 years [197, 198].
Patients younger than 30 years with more severe symptoms, or symptoms with physical causes, fared less well [195]. For those with physical urticarias, their condition may be better measured in decades, rather than years, but can typically be controlled [199].
In an Amsterdam prospective study of 220 patients with CU and angioedema,[200] 35% of patients had complete resolution of symptoms 1 year after enrollment. Resolution rates ranged from a high of 59.6% in patients with idiopathic urticaria-angioedema to a low of 16.4% in patients who had urticaria with a physical cause [195]. In a Netherlands retrospective study, 544 cases with CU and angioedema identified the mean age at presentation to be 35 years, and patients had been symptomatic an average of 5 years [201].
A prospective study published in 2004 found that duration of urticaria was longer in patients who had associated angioedema or positive anti-IgE receptor antibody [202]. Disease duration is likely to be longer in cases of angioedema, a combination with physical urticaria, positivity in the ASST (autoreactivity), and a high disease severity [6, 203].
Malignancy has been linked with urticaria and may suggest a relapse of the malignancy. There is no strong evidence to confirm an association between malignancy and uncomplicated CU, except occasionally in urticarial vasculitis and, more frequently, in acquired C1 esterase inhibitor deficiency [204, 205]. Although mortality may occur because of laryngeal edema, death is more likely due to complications of the associated disorder [206].
Angioedema
In cases involving recurrent angioedema without urticaria, hereditary and acquired angioedema must be differentiated. Acquired angioedema includes, among other etiologies, ACE inhibitor-induced angioedema and angioedema due to acquired C1-inhibitor deficiency. Much like CU, the majority of cases involving acquired angioedema, with some exceptions such as ACE-inhibitor angioedema, can be adequately controlled with daily doses of nonsedating antihistamines [207]. Angioedema of the upper airway can be life threatening. In rare cases, angioedema may develop into anaphylaxis [208].
In Australia, over an 8-year period, there were 106 deaths associated with anaphylaxis or angioedema. According to this study, there was a continuous increase in the rate of hospital admissions for angioedema (3.0% per year) and urticaria (5.7% per year). The rate of hospitalization for angioedema was highest in persons aged 65 years and older and lowest in children between 5 and 14 years. Although the rate of hospital admissions for angioedema remained relatively constant for most age groups between 1993-1994 and 2004-2005, the rate in persons aged 65 years and older doubled from 10 to 20 per 100,000 population. This represented an average annual increase of 5.6% in the rate of admissions for angioedema in this older age group. For those aged 15 to 34 years, the average annual increase was 4.3%. There was no significant change in the rate of hospital admissions for angioedema in those younger than 15 years or from 35 to 64 years. Among older persons, angioedema is becoming an increasing problem [1].
The prognosis for patients with acquired angioedema associated with C1 inhibitor deficiency is variable and depends on control of the underlying disorder. Even with appropriate treatment of the underlying disease, patients may only temporarily be free of symptoms. In several small studies, patients with acquired angioedema associated with C1 inhibitor deficiency had approximately 20% incidence of non-Hodgkin lymphoma [206].
In summary, the prognosis of urticaria and angioedema is improved with prompt and proper treatment. Using available medications, the condition is usually manageable.
Urticaria and Angioedema in Children
Urticaria and Pregnancy
Urticaria may occur in pregnancy as a result of any of the causes seen in nonpregnant women. In women with preexisting CU, the condition may worsen in some patients and appears to improve in others [229].
Quality of life and patient-reported outcomes
During the past 20 years, relevant progresses have been made in defining and evaluating PROs, with growing recognition of their importance in health outcomes research. The expression PROs refers to all health-related reports coming from the patient, without involvement or interpretation by a physician or others [252] [ie, health-related quality of life (HRQoL), symptoms, illness perception, satisfaction, well-being, perceived disease control].
PROs have recently gained great attention in clinical research and by regulatory bodies due to their relevance in the overall treatment efficacy assessment [253–255]. A critical aspect in the management of CU is its impact on the patient's daily experience. The classical symptoms (pruritus, wheals, angioedema) may affect sleep and concentration, interfere with life activities, and cause embarrassment. Furthermore, because of the presence of exacerbations, the unpredictability of attacks, the need to take medication, and change habits and lifestyle, CU patients may experience anxiety, tension, and irritability. Although CU represents a problem that interferes with subjective well-being and daily life, its evaluation has usually focused on clinical end points. As recently underlined,[256] the literature data about CU from a subjective viewpoint remain poor, and most available articles consider mainly 2 PROs: HRQoL and symptoms.
HRQoL and CU
HRQoL Assessment
HRQoL in CU has been assessed by generic, dermatologic-specific, and disease-specific tools. Several generic tools have been used to compare HRQoL of CU patients and healthy subjects--Medical Outcomes Study, SF-36,[257, 258] World Health Organization QOL-Brief (WHOQoL-BRIEF)[259]--and CU patients and patients with other diseasesd--Nottingham Health Profile [194]. Although generic instruments permit comparison across different health conditions, they are less suitable for the assessment within a specific disease.
The available questionnaires aimed at assessing HRQoL in skin diseases, the Dermatology Quality of Life Index,[260] and the SKINDEX [261] allow comparisons between different dermatological conditions but are not specifically developed for CU.
The Chronic Urticaria Quality of Life Questionnaire is the only validated specific instrument for CSU and was originally developed in Italian,[262] German,[263] Spanish,[264] Polish,[265] and Turkish [266]. Sixteen validated versions are now available.
Impact of CU on HRQoL
Available data show that from a subjective viewpoint, CU is more than an annoying disease. CU subjects report lower HRQoL when compared with healthy subjects or with patients suffering from other medical conditions. A pioneer study by O'Donnell et al [168] compared HRQoL of CU subjects and patients suffering from coronary artery disease. Surprisingly, although patients with ischemic heart disease referred more limitation in mobility, CU patients reported more severe sleep problems. Energy, social isolation, and emotional reactions scores showed similar results between the 2 groups.
Furthermore, HRQoL levels in patients with chronic spontaneous urticaria are lower than in healthy subjects and in patients with respiratory allergy [257]. A study by Poon et al [267] focused on the extent and nature of disability extent and nature in different types of urticaria, showing a large variation in HRQoL scores within different urticarial subsets. In particular, subjects with delayed pressure and cholinergic urticaria showed HRQoL impact comparable with severe atopic dermatitis patients and higher than patients with psoriasis, acne, and vitiligo.
More recently, an article by Staubach et al [268] showed that when compared with healthy subjects, CU patients reported markedly reduced HRQoL. This occurred regardless of age, sex, duration of the disease, and the presence or absence of angioedema. The presence and the severity of psychiatric comorbidities were associated with a more pronounced reduction of HRQoL. Recent studies conducted both in the general population and in outpatients in different countries confirmed that CU impacts HRQoL significantly [12, 269].
As yet, the effect of treatment on HRQoL of CU patients has been explored only in 11 trials [77, 78, 97, 111, 270–276]. The results of these studies, although different in respect to the drug evaluated, study design, population characteristics, and questionnaire used, indicate an improvement in HRQoL after treatment.
CU and Symptoms
CU symptoms can be specifically evaluated with the Urticaria Activity Score [277]. This is the unique validated instrument for measuring and monitoring disease activity in CU. The use of Urticaria Activity Score in clinical practice, trials, and therapy effectiveness analyses [4] is recommended by the current EAACI/GA2LEN/EDF guidelines.
Actions To Be Taken
Although PROs evaluation is relevant for a more global comprehension of a disease and its treatment, the available literature on CU is still poor. The following unexplored areas should be further investigated:
Other PROs besides HRQoL and symptoms

CU impact on caregivers and partners

Impact of treatment on HRQoL by a specific questionnaire

Relationships among different PROs and between PROs and psychological variables

Relation of PROs with other clinical measures of health impact.
Special considerations of physical urticarias
According to the current international EACCI/GA2LEN/EDF/WAO guidelines on urticaria,[4, 5] physical urticaria is defined as a special group of urticaria subtypes, where wheals and/or angioedema are elicited by external physical stimuli.
Physical urticaria needs to be distinguished from both spontaneous urticaria and other inducible urticaria types, such as aquagenic urticaria or cholinergic urticaria, where wheal formation is not induced by a physical stimulus. Physical urticarias usually have a chronic course, but patients can be free of symptoms for weeks or months when the physical stimulus is avoidable and avoided. This is a clear-cut difference to chronic spontaneous urticaria. One point of confusion in the past has been between physical urticaria and cholinergic urticaria. Cholinergic urticaria symptoms can be elicited through a hot shower or bath. The underlying mechanism in cholinergic urticaria, however, is not the external stimulus but the increase in body core temperature; cholinergic urticaria can also be elicited by exercise or emotional distress and is, therefore, included in the urticaria subgroup "other inducible urticarias."
Table 1 (see section Definition and Classification) shows a summary of the physical urticaria subtypes and eliciting factors.
Diagnosis in Physical Urticaria
Although the current international guidelines on the classification, definition, and diagnosis of urticaria give general recommendations, more detailed recommendations for diagnostic testing in physical urticaria are published in the "European guideline definition and diagnostic testing of physical and cholinergic urticariasd--EACCI/GA2LEN/EDF/UNEV consensus panel recommendations."[278]
A general principle in the diagnosis of physical urticaria is to mimic the physical stimulus, which leads to the formation of wheals and angioedema and at the same time if possible determine the threshold. Threshold measurements are important because they can help to give the patient practical advice on how to avoid or reduce above threshold stimulus exposure. Threshold testing also allows for the objective evaluation and monitoring of patients who receive treatment. Figure
1
and figure
2
show the recommended provocation tests for physical urticaria (modified from Magerl et al [
278
]).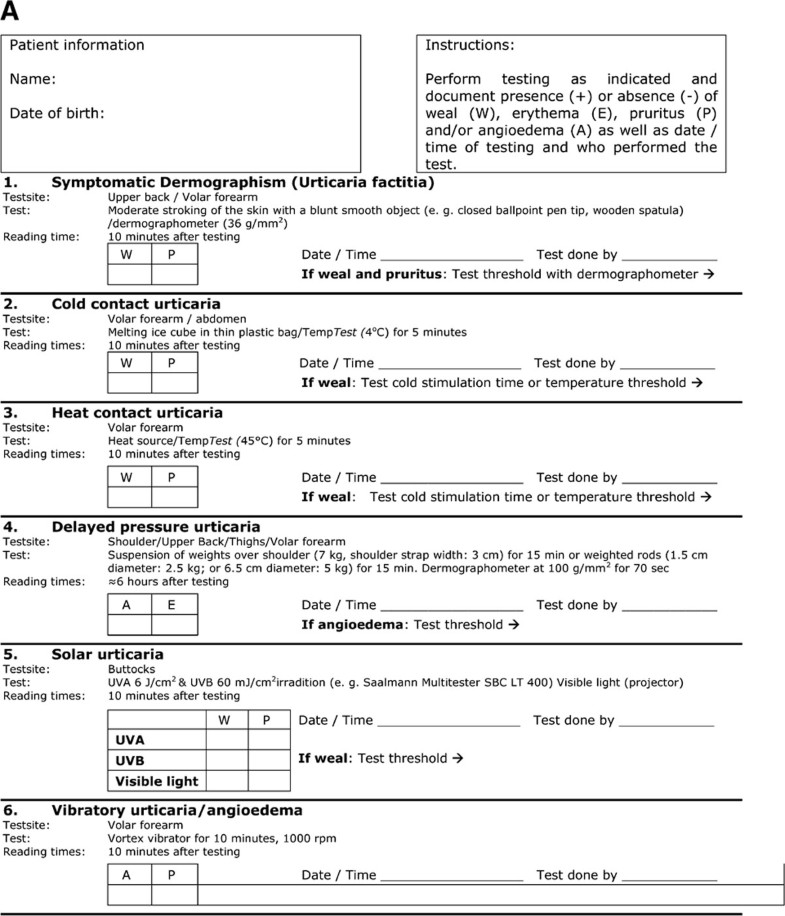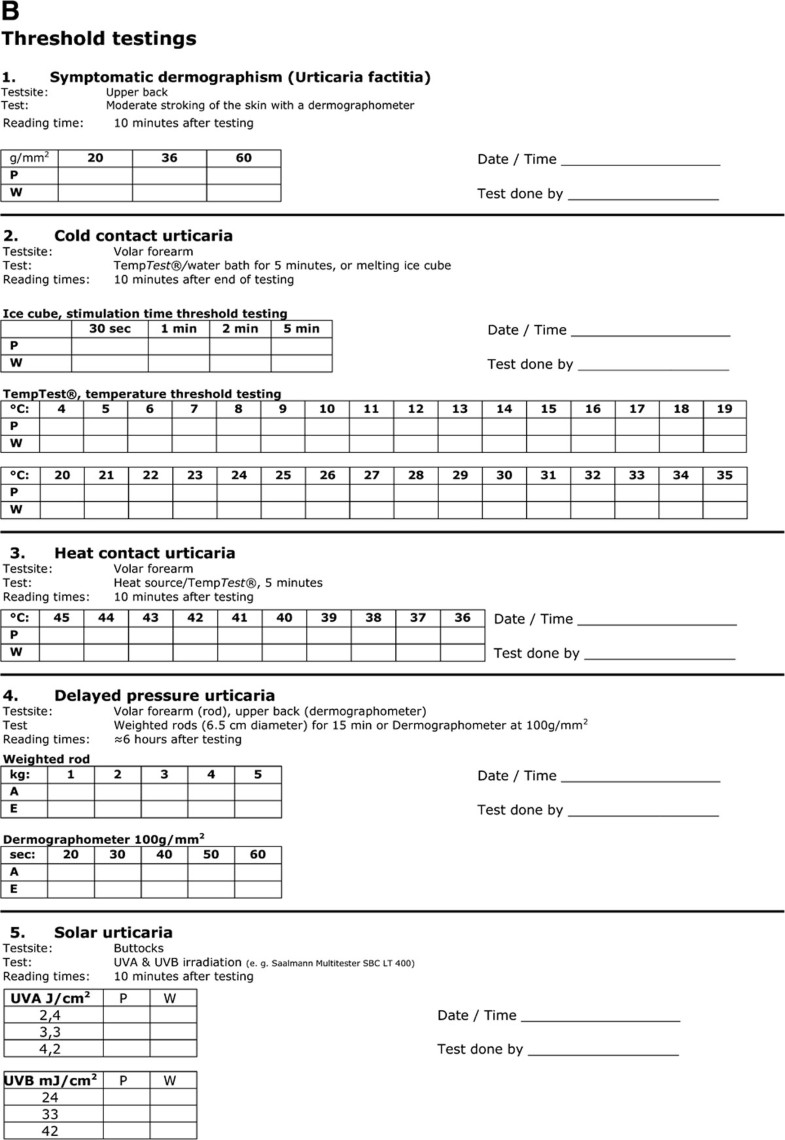 When performing provocation tests in patients with physical urticaria, it is recommended to have the same standard of emergency treatment available as for other kinds of allergy skin testing because rare cases of systemic anaphylactic reactions, especially in cold urticaria, have been described.
Severity of Disease and PROs
Physical urticaria can vary considerably in severity between individuals. In a number of patients, signs of physical urticaria only occur with unusually strong external stimulation of the skin, for example, very cold, windy, winter days in cold urticaria, and depending on the usual geographic location and everyday living habits, the required strength of the stimulus to elicit symptoms is not usually reached. However, in other cold urticaria patients, the eliciting temperature of the skin can be as high as 28°C, a temperature which is easily reached in usual daily activities in moderate climates, and even in warm climates, if there is a mild wind because wind chill temperature increases the cooling effect on the skin. In cold urticaria, systemic reactions have been described in the case of a rapid change of skin temperature, for example, when patients jumped into cold water. Another risk factor in cold urticaria is the rapid ingestion of cold food such as ice cream or cold beverages, which may lead to swellings of the upper airways and in the esophagus and to systemic histamine liberation and subsequent anaphylactic reactions.
Physical urticaria can also have an impact on occupation. It has been recognized as an occupational disease (eg, vibratory urticaria/angioedema can be the reason for disability in construction workers).
Management of Physical Urticaria
A general principle of the international urticaria guidelines on the management of urticaria is the identification and elimination of the underlying cause and/or trigger [5]. Although in the majority of physical urticarias, the underlying cause is unknown and cannot, therefore, be eliminated, avoidance of a known trigger can be very useful.
With the exception of cold contact urticaria where in rare cases infectious diseases, such as hepatitis, have been described as an underlying cause, it is not recommended to invest too many resources into the investigation of causes. In physical urticaria, the routine diagnostic program should be limited at the most to differential blood count and the determination of erythrocyte sedimentation rate. However, with the identification of the eliciting trigger, it is in many cases easy to help the patient by in detail explanation of the possibilities for avoidance. For example, pressure is defined as force per area and simply increasing the size of a handle of a bag may help in patients with pressure urticaria to avoid symptoms.
The treatment in physical urticaria is aimed at the prevention and reduction of symptoms. This follows in general the algorithm, which has been published for urticaria in the international consensus guidelines (Figure
3
).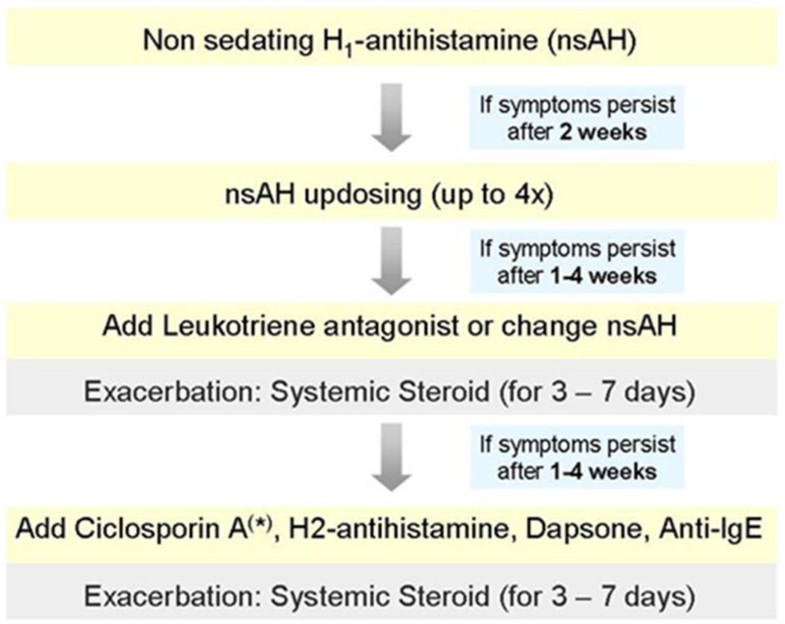 The level of evidence for first-line treatment with nonsedating antihistamines is very good both in chronic spontaneous urticaria and physical urticaria. The updosing of nonsedating antihistamines has been widely studied in physical urticaria.
Thus, the level of evidence to use higher than standard doses as the preferred second-line treatment is very high in this group of urticarias. Siebenhaar et al [279] studied the impact of increasing the dose of desloratadine from 5 mg up to 20 mg in cold urticaria and showed a clear dose-dependent response, which supports the recommendation to increase the antihistamine dosage in those patients who do not show sufficient responses to standard doses.
In general, however, the level of antihistamine treatment required may be different from day to day depending on the strength of the external stimuli and patients' needs to be very thoroughly counseled on the daily use of the drug treatment.
Alternative treatments in physical urticaria have only been scarcely studied and knowledge needs to be extrapolated from what we know from chronic spontaneous urticaria. However, physical urticarias are distinct from other urticaria subtypes in that it is possible to achieve a reduction of repetitive mast cell responses to the specific physical stimulus by long-term controlled exposure to the stimulus. For example, in cold contact urticaria, the occurrence of symptoms can be prevented by administering daily cold baths, and for solar urticaria, UV light treatment can raise UV tolerance. However, this kind of treatment is time consuming for the patient and in the case of cold bath is not always very well liked. Furthermore, it is recommended to start at the threshold level and increase slowly the strength of the physical stimulus because generalized reactions may occur.
Dissemination and Implementation of the Position Paper
The WAO urticaria and angioedema position paper is being published in the World Allergy Organization Journal (WAO Journal) at http://www.WAOJournal.org to facilitate rapid access by all 3000 WAO members. The WAO Member Societies are encouraged to contribute with the dissemination of this position paper through discussion at national and international meetings, and translation and publication in national allergy society journals.
Summary
This Position Paper presents recommendations for the proper diagnosis and treatment of urticaria and angioedema, highly prevalent diseases in all areas of the world. Although there have recently been important advances in the elucidation of the pathogenesis, allowing the implementation of innovative diagnostic and therapeutic procedures for patients suffering urticaria, the basic mechanisms remain elusive.
Second-generation nonsedating antihistamines at usual or increased doses are presently recommended as first-line therapy for patients with acute and chronic spontaneous urticaria and angioedema. Alternative treatments include H2-antagonists, corticosteroids, leukotriene receptor antagonists, other antiinflammatory drugs, immunosuppressants, omalizumab, and intravenous immunoglobulins.
About one third of patients with CU will continue to experience symptoms after 5 years of follow-up. Consequently, it is important to provide early treatment to improve patient's quality of life. Reduction of the exposure to precipitating and aggravating factors is also important, especially in patients with physical urticarias.
Note
All authors reviewed and approved this manuscript. Abstract, Introduction, WAO Global Position Papers, Methods, Prevalence, Dissemination and implementation of the Position Paper, Summary: M. Sánchez-Borges. Definition and Classification: P. Tassinari. Etiology and Pathogenesis: A. P. Kaplan and S. Saini. Diagnostic Approach: H. S. Park, Y.M. Ye, and I. Treatment: A. R. Asero, J. A. Bernstein, D. A. Khan, and A. Tedeschi. Prognosis: R. Gower. Urticaria and Angioedema in Children: P. Potter. Urticaria and Pregnancy: C. Katelaris. Quality of Life and Patient's Reported Outcomes: I. Baiardini and G. W. Canonica. Special Considerations of Physical Urticarias: M. Maurer and T. Zuberbier.
Authors' Affiliations
(1)
Department of Allergy and Clinical Immunology, Centro Médico-Docente La Trinidad, Caracas, Venezuela
(2)
Ambulatorio di Allergologia, Clinica San Carlo, Paderno-Dugnano, Milan, Italy
(3)
Department of Allergy and Immunology, Hospital Quirón Bizkaia, Bilbao, Spain
(4)
Allergy and Respiratory Disease Clinic, University of Genova, Ospedale S.Martino di Genova, Genoa, Italy
(5)
Department of Internal Medicine, Division of Immunology/Allergy Section University of Cincinnati, Cincinnati, USA
(6)
Department of Medicine, University of Washington, Spokane, USA
(7)
Division of Allergy and Immunology, Department of Internal Medicine, University of Texas Southwestern Medical Center, Dallas, USA
(8)
Division of Pulmonary and Critical Care Medicine and Allergy and Immunology, Department of Medicine, Medical University of South Carolina, Charleston, USA
(9)
Department of Allergy and Immunology, University of Western Sydney and Campbelltown Hospital, Sydney, Australia
(10)
Universitätsmedizin Berlin. Allergie-Centrum-Charité, Berlin, Germany
(11)
Department of Allergy and Clinical Immunology, Ajou University School of Medicine, Suwon, South Korea
(12)
Allergy Diagnostic & Clinical Research Unit, University of Cape Town Lung Institute, Groote Schuur, South Africa
(13)
Division of Allergy and Clinical Immunology, Department of Medicine, Johns Hopkins University, Baltimore, USA
(14)
Immunology Institute, Faculty of Medicine, Universidad Central de Venezuela, Caracas, Venezuela
(15)
U.O. Allergologia e Immunologia Clinica, Fondazione IRCCS Ca' Granda, Ospedale Maggiore Policlinico, Milano, Italy
(16)
Carretera La Trinidad-El Hatillo, Estado Miranda, Caracas, Venezuela
Copyright
© World Allergy Organization; licensee BioMed Central Ltd. 2012
This article is published under license to BioMed Central Ltd. This is an Open Access article distributed under the terms of the Creative Commons Attribution License (http://creativecommons.org/licenses/by/2.0), which permits unrestricted use, distribution, and reproduction in any medium, provided the original work is properly cited.