Review article

Open Access
Respiratory Syncytial Virus Infection: From Biology to Therapy A Perspective
World Allergy Organization Journal
2008
1:113
Received: 3 October 2007
Accepted: 13 December 2007
Published: 15 February 2008
Abstract
Respiratory syncytial virus (RSV) is responsible for significant morbidity and mortality, particularly in infants younger than 18 months and in the elderly. To date, there are few effective treatment options available to prevent or treat RSV infections. Attractive therapeutic strategies include targeting host epithelial adhesion molecules required for RSV infection, enhancing localized cell-mediated immunity, interfering with RSV viral gene expression and developing a multigene DNA vaccine. The most recent data supporting the advantages and limitations of each of these approaches are discussed in detail. Several promising strategies offer hope for safe and effective prophylaxis and treatment of RSV infection.
Keywords
respiratory syncytial virus infectionallergic diseasechitosannanoparticles
Respiratory syncytial virus (RSV) is one of the most important respiratory pathogens targeting all age groups; however, infants (younger than 18 months) and the elderly experience the most severe aspects of the disease, which results in lower respiratory tract illnesses (ie, bronchiolitis and pneumonia) [1]. Around 90% of infants are infected for the first time by the age of 2 years [1, 2]. Worldwide, about 5 million infants are hospitalized because of severe RSV infection. The first is usually the most severe, and previous findings indicate that infants with a history of premature birth, bronchopulmonary dysplasia, congenital heart disease, cystic fibrosis, or immunosuppression are more likely to develop the most severe clinical courses of bronchiolitis and pneumonia, which have the highest risk of death[1, 2].
However, an analysis of a comprehensive study done between 1979 and 1997 about RSV-associated deaths in US children suggests that most RSV-related deaths do not occur among children who are presumed to be at high risk for severe RSV lower respiratory tract illnesses [3]. The leading cause in infant hospitalization is RSV bronchiolitis, [4] which imposes a severe burden upon health services. Costs related to emergency department visits between 1997 and 2000 amount to approximately 202 million US dollars [4]. Complete immunity to RSV never develops, and reinfection throughout life is common. Although the major clinical manifestation of RSV in older children and adults is upper respiratory tract illness (rhinitis and acute otitis media), it may also cause up to 2.4% of community-acquired pneumonia in these population groups [5]. In older adults, RSV was identified as responsible for 10% of winter hospital admissions and has a case-fatality rate that approaches 10%. In addition, 78% of RSV-associated deaths occur in individuals aged 65 years or older who have underlying cardiac and pulmonary pathology [6]. In particular, RSV infection in adults with strong immunosuppression, for example, patients undergoing bone marrow transplantation is of great medical importance [7].
In the past 8 years, our research has identified both cellular and viral targets that may be useful for the prevention of RSV infection and its accompanying pathology. Differential microarray analysis was used to pinpoint gene expression changes in RSV-infected cells, and expression of candidate therapeutic genes was tested both in cultured lung epithelial cells in vitro and in animal models in vivo. Characterization of these gene expression changes includes immune modulation, signal transduction, and apoptosis. In this report, the biology of RSV and how these studies contribute to the basic mechanistic studies of RSV infection and have led to new targets to manage RSV infection will be discussed.
State of the Art in Treatment and Prophylaxis of RSV Infection
There is no treatment to protect against RSV infection, and the current treatment, Ribavirin, only produces modest short-term improvement in respiratory tract infection [8]. Moreover, it is now restricted to a highly selected group of patients with T-cell immunodeficiency [9]. Passive immunoprophylaxis, involving the administration of either a polyclonal antibody (Synagis) preparation or a humanized version of a monoclonal anti-RSV-F antibody (Palivizumab), is successful for protection of high-risk individuals against RSV infection. However, these approaches are only partially effective, expensive, and could generate resistant mutant RSV strains. Development of new and highly effective antibodies to modulate RSV infection remains a major medical and pharmaceutical goal.
To date, there is no licensed vaccine for the prevention of human RSV disease. Efforts have been made to develop active prophylaxis measures (vaccines), and both subunit and attenuated live vaccines are being pursed in clinical studies. Vaccine development has been limited after the testing of initial vaccines in the 1960s, which exacerbated the RSV disease [10, 11]. Some of the reasons for the lack of success in developing previous vaccines include the inadequate response to vaccination, the existence of 2 antigenically distinct RSV groups, and the history of disease enhancement after administration of a formalin-inactivated vaccine [12, 13].
Developing active or passive prophylaxis is important as they are expected to decrease the incidence of severe infections and thus may reduce or attenuate asthma pathogenesis. Recent advances in the vaccine area include research with plasmid-based DNA vaccines and small-interfering RNA (siRNA)-based approaches. To deliver these antiviral plasmids in the most effective way to target cells, a novel carrier system has been produced based on modified polysaccharide nanoparticles that protect the DNA and facilitate its introduction into the lungs. The advances in this field are reviewed in the following sections.
RSV Genome and Structure
Human RSV is in the genus Pneumovirus, subfamily Pneumovirinae, family Paramyxoviridae, order Mononegavirales, whose members consist of nonsegmented, negative-sense, single-stranded RNA viruses. In addition to human RSV, the genus Pneumovirus includes bovine RSV, ovine RSV, and pneumonia virus of mice. The RSV virions consist of a nucleocapsid contained within a lipid envelope of irregular spherical shape with sizes of 150 to 300 nm. Both infected cultures and viral preparations can also include filamentous forms of the virions that are 60 to 100 nm in diameter and up to 10 μm in length [14]. The viral envelope is a lipid bilayer acquired from the host plasmatic membrane. The viral transmembrane glycoproteins--the fusion protein F, the attachment protein G, and the small hydrophobic protein SH--organize themselves to form spikes, which are visible under electron microscopy. Host lipid raft-derived proteins are also incorporated into the envelope of mature viral particles [15–17]. The envelope connects to the nucleocapsid through the viral matrix M protein. Using electron microscopy, the nucleocapsid is seen as an internal electrodense material with a diameter of 15 nm inside the round and filamentous forms of the virions [14]. The nucleocapsids consist of the RNA genome and the associated nucleocapsid protein N, the phosphoprotein P, the large polymerase subunit L, and the antitermination factor M2-1. The viral RNA genome and the associated proteins in the nucleocapsid together form a very tight ribonucleoprotein complex, which is resistant to RNAse activity.
The genome for most of the virions is a negative-sense strand of RNA of 15,222 nucleotides in length. However, some virions are also found to have incorporated the positive-sense replicative intermediate (antigenomic RNA), which is synthesized during viral replication. Thus, this implies that during the viral assembly, there is no mechanism that allows discrimination in packaging. The viral genes are ordered from 3' to 5' in the following way: NS1-NS2-N-P-M-SH-G-F-M2-L. Glycoprotein G and F (and SH), respectively, mediate virus attachment and fusion to the host cell [18]. In addition to fusion, protein F has also been postulated to participate in the attachment of the virus to the host cell membrane. Intercellular adhesion molecule 1 (ICAM-1), annexin-II, and Toll-like receptor 4 are receptors for protein F [19–21]. The matrix (M) protein forms a layer on the inner face of the viral envelope, and it plays an essential role in viral assembly through its interactions with the cell membrane, virus envelope, and virus nucleocapsid [22, 23]. The nucleocapsid-associated proteins N, P, M2-1, and L play essential roles at different stages for efficient viral transcription and replication. The nonstructural proteins NS1 and NS2 are thought to be antagonists of the interferon (IFN)-type I system. They seem to target the transcription factor IRF-3. Thus, the expression of these proteins helps the virus to reduce IFN-γ expression by infected cells [24, 25].
Prophylaxis and Treatment of RSV Infection
Developing antivirals requires a comprehensive molecular understanding of the early events of virus-host interaction necessary for viral fusion and entry into cells and viral replication. To study viral interactions, human epithelial cell cultures, a 3-dimensional epithelium, and human dendritic cell and mouse models of RSV infection have been established in our laboratory (Figures
1A-C
). The RSV affects pulmonary function in BALB/c mice [
26
]. A number of investigators have used a mouse model for the study of asthma and RSV infection using an inbred BALB/c strain of mouse [
27
–
32
]. Figure
1C
shows the localization of RSV in the nose, trachea, and lung of BALB/c mice after their infection with RSV by immunohistochemical analyses. The sections stained for RSV were produced from mouse nose after 1 hour of RSV infection. The negative controls did not exhibit any RSV specific staining (red). One side of the nose of infected mice showed RSV, also the tracheal epithelium and peripheral lung sections showed RSV infection. Macrophages were infected with RSV in the peripheral lung. No infection was found in the control mice. As in humans, pulmonary T cells induce both T
h
1 and T
h
2 responses in the lung in response to RSV infection [
31
–
35
]. The contributions of our laboratory fields are summarized in Table
1
.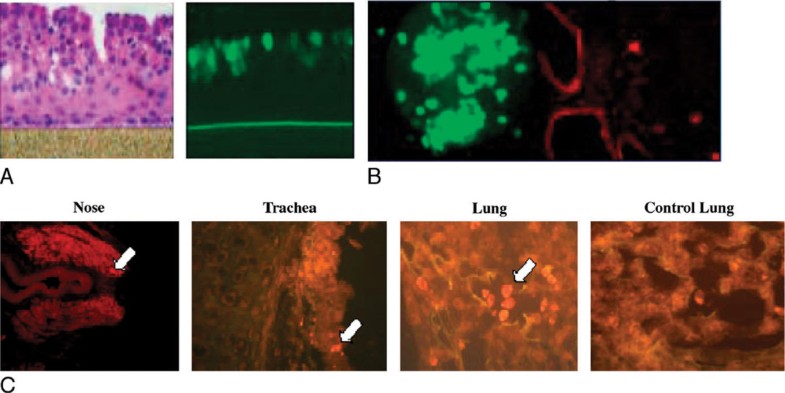 Table 1
Summary of Studies Relating to RSV Infection
| Area | Protein(s) Involved | Therapeutic Approach | Reference |
| --- | --- | --- | --- |
| Host | ICAM-1 | Ab, antisense RNA | |
|    proteins | IFN-γ | Gene therapy | |
| | 2-5'Oligoadenylate synthetase | Gene therapy | [92] |
| | ERK1, 2 | SMD inhibitors | [93] |
| | STAT-1/3 | SMD inhibitors | [94] |
| | PKC-α | SMD inhibitors | [95] |
| Virus | F | Antisense RNA | |
|    proteins | NS1 | siRNA | [96] |
| | F, G, SH, NS1, NS2, P, N | DNA vaccine | |
Similarly, the methods of prevention and treatment are shown in Figure
2
. The salient findings thus far are as follows: (1) RSV infection induces the expression of ICAM-1 on host cells. The colocalization of RSV and ICAM-1 suggests that ICAM-1 binds to RSV, most likely by interacting with the RSV fusion protein. Treatment of cells with antibodies to ICAM-1 or targeting ICAM-1 in mice significantly inhibits RSV infection and the production of inflammatory mediators, suggesting a therapeutic potential of anti-ICAM-1 approaches; (2) intranasal administration in mice of a plasmid encoding IFN-γ significantly decreases viral replication in the mouse lung and reduces lung inflammation. From DNA microarray analysis and other molecular and cellular techniques, we have identified 2-5 antisense oligoadenylate synthetase as an important molecule in the IFN-γ-mediated inhibition of RSV replication. Mice given adenovirus expressing 2-5 antisense oligoadenylate synthetase significantly inhibit RSV replication; (3) from microarray studies to dissect the early events of RSV infection, multiple signaling pathways involving STAT1 and STAT3, ERK-1 and ERK-2, and PKC-α are involved in RSV-induced early gene expression and inflammation. PKC-α is a critical target upstream of these signaling pathways, and inhibitors of PKC-α specifically block RSV fusion and stop the infection of normal human bronchial epithelial cells. To elucidate the mechanism of RSV infection, RSV-induced signal transduction pathways involving STAT and PKC were investigated. These studies in human epithelial cells have now been extended to RSV-infected mouse model, where it has been possible to localize up-regulation of multiple signaling pathways such as those involving nuclear factor-κB (NF-κB) has been localized to infected lung cells (Figure
2
); (4) finally, to develop a vaccine for prophylaxis or treatment based on RSV genes, a multigene DNA vaccine and siRNA-based strategy was explored. The contributions to the development of a nanotechnology platform for a DNA vaccine and for RNA interference therapy are summarized in the following sections.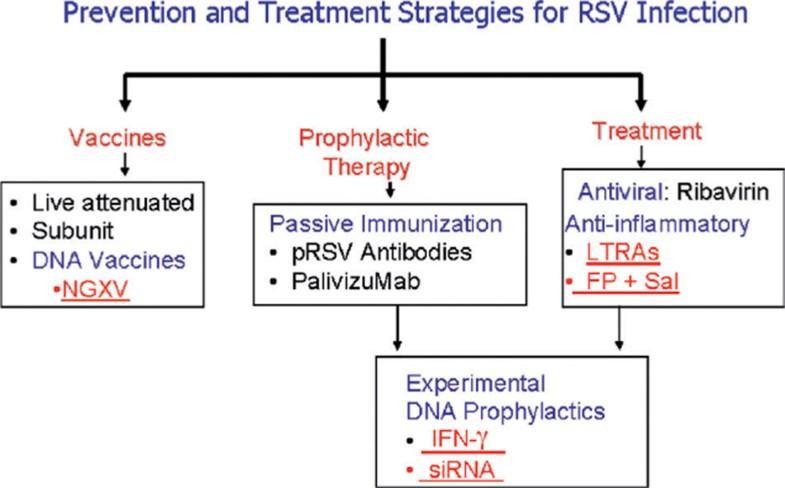 Summary and Conclusion
The RSV is the major pathogen responsible for serious upper and lower respiratory tract infections, primarily in infants, but also in the elderly worldwide. The precise molecular and cellular mechanisms are unclear, and satisfactory prophylaxis or treatment strategies are yet to emerge. This research has resulted in the understanding of the pathology and complexity of signaling pathways involved in successful infection; the role of host defense molecules such as ICAM-1, IFN-γ, and related pathways; and how they can be exploited to develop less costly prophylaxis and treatments for RSV infection. Finally, the potential to develop safe and effective prophylaxis and/or treatment by targeting important RSV genes is under investigation.
Declarations
Acknowledgements
S. S. Mohapatra is supported by grants from the Veterans' Affairs Merit Review and VA Career Scientist Awards, and by US National Institutes of Health grant no. 5RO1HL71101-01A2. The support from the Joy McCann Culverhouse and Mabel and Ellsworth Simmons Endowments to the Division of Allergy and Immunology, Department of Internal Medicine, College of Medicine, and the Veterans' Affairs Hospital is also gratefully acknowledged.
Authors' Affiliations
(1)
Joy McCann Culverhouse Airway Disease Research Center, Department of Internal Medicine, University of South Florida College of Medicine, USA
(2)
James A. Haley VA Medical Center, Tampa, USA
Copyright
© World Allergy Organization; licensee BioMed Central Ltd. 2008
This article is published under license to BioMed Central Ltd. This is an Open Access article distributed under the terms of the Creative Commons Attribution License (http://creativecommons.org/licenses/by/2.0), which permits unrestricted use, distribution, and reproduction in any medium, provided the original work is properly cited.