Vitamin D, allergies and asthma: focus on pediatric patients
World Allergy Organization Journal
2014
7:75
Received: 2 July 2014
Accepted: 11 September 2014
Published: 10 December 2014
Abstract
In recent years, the interest of the scientific world towards vitamin D gradually increased, and several studies have been conducted to dissect its possible role in modulating the development/course of allergic diseases. Also, Vitamin D supplementation has been assessed as a beneficial approach for treating allergies in some, but not all studies. We reviewed herein the available and relevant literature concerning the possible links between Vitamin D, its supplementation and allergic diseases. A literature search was made independently by the Authors, identifying articles for a narrative review. As per literature, Vitamin D plays a key role in calcium and phosphate metabolism, and it is essential for bone health in infants, children and adolescents. However, there is presently insufficient evidence to support vitamin D supplementation for prevention or treatment of allergic diseases in infants, children and adolescents, concerning allergic rhinitis, asthma, food allergy and atopic dermatitis.
Keywords
Vitamin DAllergic diseasesImmunomodulationSupplementationAsthmaRhinitisPediatric allergy
General background
During the two last decades, the scientific interest on the Vitamin D system progressively increased. Apart from the well-known role of this vitamin in bone and calcium metabolism, recent observations have suggested its possible role as a pivotal immune-modulator also in allergic diseases, including asthma [
1
], and this aspect could assume a particular relevance in pediatric patients. A growing body of literature underlined that vitamin D plays an important role in the general function/regulation of immune system, expecially concerning lymphocyte function, T cell antigen receptor signaling and activation, cytokine production [
2
–
4
]. Based on these observations, the vitamin has been suggested as a potential factor affecting incidence, severity and course of asthma and allergic diseases [
5
,
6
], thus envisaging also preventive roles. It is also true that some studies suggested that high serum levels of vitamin D may increase the risk of allergic disorders [
7
–
12
]. Cholecalciferol, and its metabolites, are more properly hormones that can be synthesized by the human body (Figure
1
). Ultraviolet radiations determine the photochemical conversion in the skin of 7-dehydrocholesterol into cholecalciferol (Vitamin D3). Subsequently, in the liver, mitochondrial and microsomal enzymes similar to cytochrome P450 determine its hydroxylation in position 25 to get 25-hydroxy-cholecalcipherol (calcidiol), that is usually named and assayed as Vitamin D (VD) since it represents the most abundant circulating form, with a long half-life. Approximately, 88% of VD circulates bound to specific binding proteins, or bound to albumins, whereas only 0,03% is free. The second hydroxylation, that is necessary for having an active hormone, occurs in kidney, where VD is converted in the active form (1–25 hydroxyVD, calcitriol) [
13
].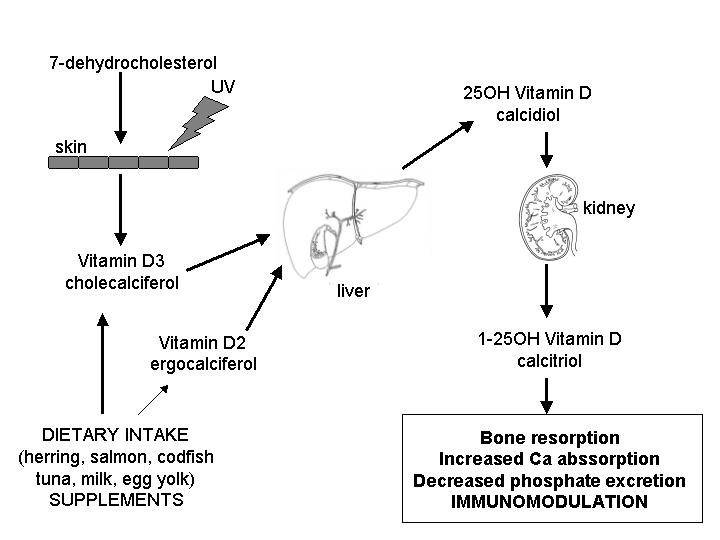 Up to recent times, it was argued that the conversion of VD into its active metabolite could exclusively occur in the kidney. Latest discoveries have brought to light how other cells in different organs express receptors for vitamin D. Typical examples are represented by T and B lymphocytes, monocytes, antigen presenting cells (APC) including macrophages and dendritic cells [14]. In the matter of this, it is established that vitamin D exerts its effects on the immune system, especially increasing the expression of cathelicidins hCAP18, important defense factor against pathogens of the respiratory tract [15]. Cathelicidins produced by neutrophils and epithelia, after a signal mediated by inflammatory cytokines, would seem to determine the chemotaxis of the cells of innate immunity by activating an inflammatory response against several microorganisms. Moreover, vitamin D may stimulate the production of cationic peptides, beta-defensin 2 and 4 [15].
The supposed antiallergic effects of VD may in part be ascribable to the action on dendritic cells, favoring the production of IL-10 and reducing the production of IL-12 [16]. A serum level of VD ≥ 50 nmol/L is considered sufficient, values < 50 nmol/L insufficient, and < 40 nmol/L possibly at risk for disease. To ensure an adequate intake of vitamin D, the American Academy of Pediatry has raised the daily recommended intake for children and adolescents [17], to a dose of 400 IU up to 12 months of age and 400–600 over 12 months [18], recommending that this supplementation should begin during the first days of life.
Concerning allergic diseases, the available studies provided conflicting results. Certainly, in addition to serum levels of VD, other factors may play a crucial role in the development of allergies and asthma, including environment and genetics. In this regard, an interesting aspect concerns the latitude [19]: high latitudes (evaluated in consideration of residence at time of birth and interview), which are characterized by lower ultraviolet irradiation, may be associated with a lower frequency of allergy, while a higher ultraviolet exposure (lower latitudes), was associated with an increased likelihood of having a history of allergic rhinitis or asthma or both conditions during childhood. Of course, these represent only a cross-sectional study, and do not provide a direct evidence that sun-exposure is related to VD and allergy.
Interventional studies with VD in patients with immune-mediated diseases were not fully exhaustive. The extent of involvement of vitamin VD-dependent and VD-independent pathways in homeostasis and regulation of immune system in diseases still needs to be explored [20].
Authors' Affiliations
(1)
Department of Pediatrics, National Healthcare System Fornovo, Parma, Italy
(2)
Department of Pediatrics, National Healthcare System ASL TO1, Turin, Italy
(3)
Pediatric Unit Department of Gynecologic, Obstetric and Pediatric Sciences, University of Bologna, Bologna, Italy
(4)
Pediatric Unit, G. Fornaroli Hospital, Magenta, Italy
(5)
Department of Sciences for Health Promotion and mother and child, University of Palermo, Palermo, Italy
(6)
Environmental Protection Agency of Tuscany (ARPAT), Department of Prato, Prato, Italy
(7)
Aerobiological Monitoring Center, University of Tor Vergata, Rome, Italy
(8)
Allergology Unit, G.B.Grassi Hospital, Rome, Italy
(9)
Allergy and Respiratory Diseases, IRCCS San Martino-Ist-University of Genoa, Genoa, Italy
(10)
Department of Pediatrics and Allergy Unit Sandro Pertini Hospital, Rome, Italy
Copyright
© Della Giustina et al.; licensee BioMed Central Ltd. 2014
This article is published under license to BioMed Central Ltd. This is an Open Access article distributed under the terms of the Creative Commons Attribution License (http://creativecommons.org/licenses/by/4.0), which permits unrestricted use, distribution, and reproduction in any medium, provided the original work is properly credited. The Creative Commons Public Domain Dedication waiver (http://creativecommons.org/publicdomain/zero/1.0/) applies to the data made available in this article, unless otherwise stated.