Review article

Open Access
Basophils as Key Regulators of Allergic Inflammation and Th2-type Immunity
World Allergy Organization Journal
2008
1:123
Received: 5 February 2008
Accepted: 3 April 2008
Published: 15 July 2008
Compared with other allergic effector cells, basophils are relatively rare and constitute only 1% or less of circulating leukocytes. Like their tissue-fixed mast cell counterparts, basophils express high-affinity immunoglobulin E (IgE) receptors (FcεRI), secrete histamine and eicosanoids (primarily LTC4) after IgE-mediated provocation, and undergo metachromatic staining. However, before the emergence of basophil-specific markers, it was hard to demonstrate their presence in organs affected by allergic inflammation. Despite this, in the early 1990s, indirect evidence pointed to their presence in these tissues during late-phase reactions based on their ability to release histamine without concomitant prostaglandin D2 (PGD2) or mast cell tryptase [1, 2]. These observations increased interest in basophils as allergic effector cells, but during this period, few could have foreseen the crucial functions of these cells in actually orchestrating allergic inflammatory events, let alone possibly helper T cell type 2 (Th2) immunity itself.
A major turning point that changed our perceptions of allergic effector cells per se was the discovery that mast cells produce a variety of inflammatory and immunomodulatory cytokines. Murine mast cells or tumorigenic mast cell lines, in particular, were found to generate interleukin 1 (IL-1), IL-3, IL-4, IL-5, IL-6, IL-8, IL-13, granulocyte macrophage colony-stimulating factor, and tumor necrosis factor-α (TNF-α) besides several others after IgE-dependent activation[3] (reviewed in Gordon et al[4]). It was shown that mast cells could potentially drive developing helper T cell responses as well as up-regulate adhesion molecules on endothelial cells responsible for attracting other allergic inflammatory cells [5–7]. However, unlike rodent mast cells, the ability of primary human mast cells from either the lung or skin to generate Th2-type cytokines (especially IL-4) seems to be rather limited [8–11]. In contrast, human basophils rapidly synthesize and release IL-4,[12–15] in some cases even from preformed stores,[15] and IL-13,[15–17] cytokines that play a crucial role in supporting underlying atopy.
Although human basophils share certain characteristics with their mast cell counterparts, they differ in a number of important aspects regarding their ability to react to various stimuli and the types of mediators they release (Figure
1
). In terms of cytokine synthesis, human basophils are relatively constrained to generating IL-4 and IL-13 rather than IL-5 or the multitude of proinflammatory cytokines ascribed to mast cells [
18
]. This sets the scene for the emergence of the basophil as a potential supporter of Th2 responses, evidence of which is highlighted in this review.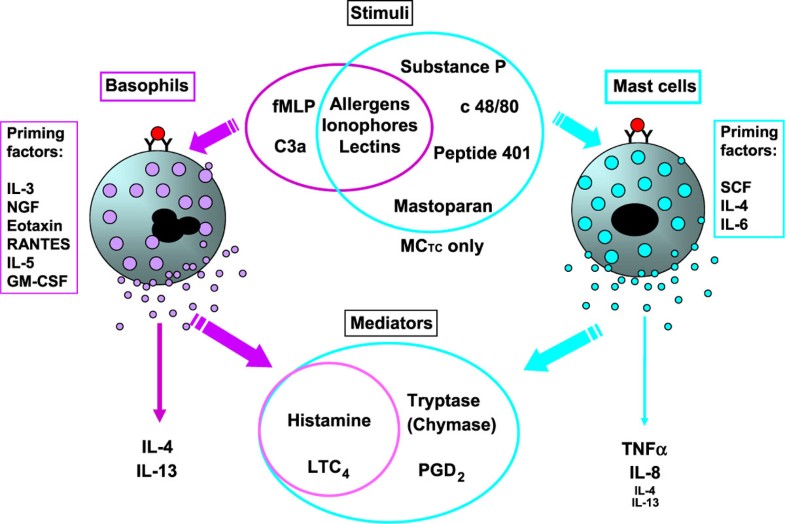 (1)
Medway School of Pharmacy, University of Kent, Kent, UK
© World Allergy Organization; licensee BioMed Central Ltd. 2008
This article is published under license to BioMed Central Ltd. This is an Open Access article distributed under the terms of the Creative Commons Attribution License (http://creativecommons.org/licenses/by/2.0), which permits unrestricted use, distribution, and reproduction in any medium, provided the original work is properly cited.