Review article

Open Access
The p-i Concept: Pharmacological Interaction of Drugs With Immune Receptors
World Allergy Organization Journal
2008
1:96
Received: 31 December 2007
Accepted: 7 March 2008
Published: 15 June 2008
Abstract
The immune response in drug hypersensitivity is normally explained by the hapten hypothesis. It postulates that drugs with a molecular weight of less than 1000 D are too small to cause an immune response per se. However, if a chemically reactive drug or drug metabolite binds covalently to a protein and thus forms a so-called hapten-carrier complex, this modified protein can induce an immune response. This concept has recently been supplemented by the p-i concept (or pharmacological interaction with immune receptors), which postulates that some drugs that lack hapten characteristics can bind directly and reversibly (noncovalently) to immune receptors and thereby stimulate the cells. For example, a certain drug may bind to a particular T-cell receptor, and this binding suffices to stimulate the T cell to secrete cytokines, to proliferate, and to exert cytotoxicity. The p-i concept has major implications for our understanding of drug interaction with the specific immune system and for drug hypersensitivity reactions. It is based on extensive investigations of T-cell clones reacting with the drug and recently of hybridoma cells transfected with the drug-specific T-cell receptor for antigen (TCR). It is a highly specific interaction dependent on the expression of a TCR into which the drug can bind with sufficient affinity to cause signaling. Small modification of the drug structure may already abrogate reactivity. Stimulation of T cells occurs within minutes as revealed by rapid Ca++ influx after drug addition to drug-specific T-cell clones or hybridoma cells, thus, before metabolism and processing can occur. As the immune system can only react in an immunologic way, the symptoms arising after drug stimulation of immune receptors imitate an immune response after recognition of a peptide antigen, although it is actually a pharmacological stimulation of some T cells via their TCRs. Clinically, the p-i concept could explain the sometimes rapid appearance of symptoms without previous sensitizations and the sometimes chaotic immune reaction of drug hypersensitivity with participation of different immune mechanisms while normal immune reactions to antigens are highly coordinated. Nevertheless, because the reactions lead to expansion of drug-reactive cells, many features such as skin test reactivity and stronger reactivity upon reexposure are identical to real immune reactions.
Keywords
p-i conceptdrug hypersensitivityhaptenprohaptenT-cell receptorT cells
In drug hypersensitivity, 2 extremely polymorphic systems encounter each other. On one hand, modern chemistry, which allows synthesis of an endless amount of drugs often designed to fit into and thus blocking receptors or enzymes and, on the other hand, the specific immune system, which is composed of T and B cells expressing greater than 109 different T-or B-cell receptors for antigen (TCR, BCR). The enormous polymorphism of the immune system allows it to react to all kinds of different antigens and even to antigens that will be created in the future. It surely does also express receptors into which some old or new drugs may fit. On the other hand, it is an immunologic dogma that small molecules do not stimulate the immune system. However, is this so? Or are there exceptions to this rule?
The Hapten and Prohapten Concept
An immune reaction starts by involvement of the innate immune system. The antigen (bacterium, virus, etc) stimulates the innate immune system via, for example, Toll-like receptors (TLRs) on dendritic cells and thereby sets an initial alarm signal. The activated dendritic cells function as antigen-presenting cells (APCs) as they take up and process complex antigens, which subsequently are presented as peptides to T cells in a suitable environment, mainly the lymph nodes. The ensuing immune response is variable and efficient, as different antigens such as soluble or cell-bound viral antigens elicit a distinct immune response, capable of eliminating the infectious agent.
Small low-molecular weight compounds (< 1000 D) are thought to be too small to elicit such an immune response per se. Nevertheless, small compounds such as drugs or metal ions were found to be able to trigger an immune response [
1
–
5
]. The hapten (and prohapten) model was developed and is currently the accepted explanation for these observations: Chemically reactive, small compounds (haptens) bind to proteins or peptides and modify them [
4
–
6
]. These haptens have thereby 2 essential features for inducing an immune response.
a)

They may stimulate the innate immune system by covalently binding to cellular proteins and thereby transmit a danger signal, which results in stimulation of cells of the innate immune system,[7–9] such as up-regulation of CD40. Exceptionally, they may happen to bind to TLR7 and TLR8 directly and thus stimulate dendritic cells. This was shown for imiquimod [10].

b)

They may stimulate the specific immune system. By forming hapten-carrier complexes, they form neoantigenic structures. This hapten-protein complex is processed and presented as hapten-modified peptide to T cells, which can react with it [1–4, 11]. Modified proteins can also be immunogenic for B cells and thus elicit a humoral immune response. This hapten modification can occur with soluble proteins, cell-bound proteins, or with the major histocompatibility complex (MHC)-peptide complexes themselves, leading to distinct immune responses (Figure 1) [1, 3].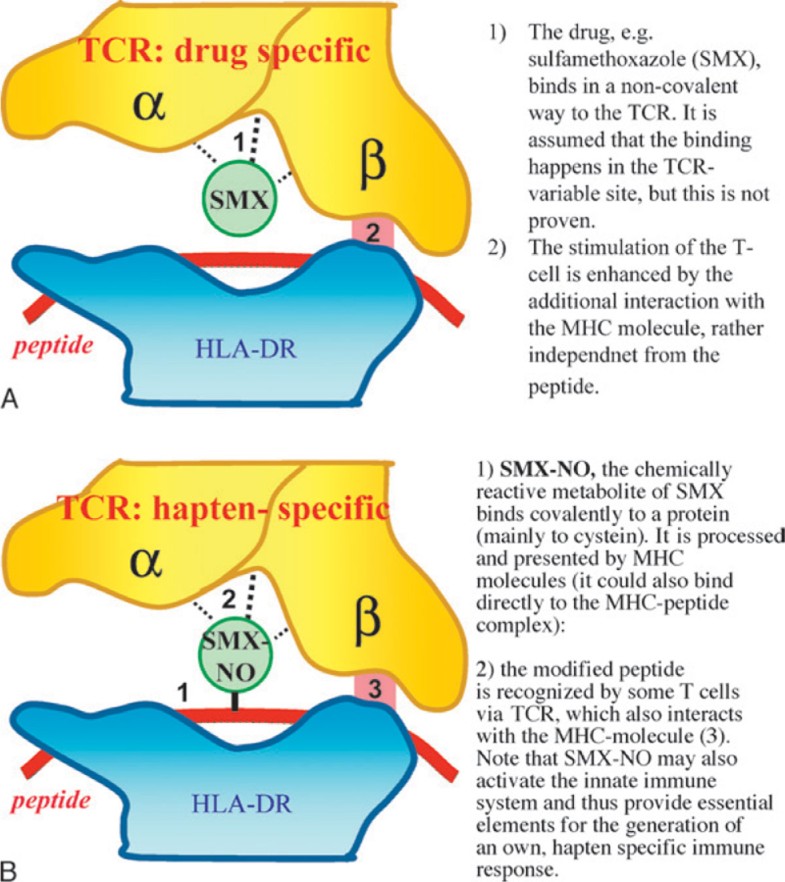 Prohaptens are per se not chemically reactive and thus unable to form a covalent bridge to peptides. To become chemically reactive, they first need to be converted into a hapten by being metabolized into a compound that is chemically reactive [1, 11–14]. Metabolism may occur in the liver, where it may not necessarily induce an immune response, but actual tolerance [15]. On the other hand, if a reactive compound escapes the tolerogenic environment of the liver or if the immune response to the compound is developed in lymph nodes outside of the liver (such as probably in severe drug hypersensitivity syndromes also called drug rash with eosinophilia and systemic symptoms), a systemic reaction mainly affecting the skin and with an accompanying hepatitis may occur [16, 17].
The p-i Concept
The hapten and prohapten concept elegantly circumvents the (presumed) blindness of the immune system for low-molecular weight compounds by postulating chemical reactivity and subsequent coupling to a macromolecular carrier an absolute necessity. As a consequence, drugs and other substances that are incapable of such conjugation with a carrier would not be antigens and could not induce hypersensitivity reactions.
We have recently challenged this dogma and proposed a third model, which is meant to supplement the hapten/prohapten concept [
1
,
3
,
18
]. Termed the p-i concept, which stands for "direct pharmacological interaction of drugs with immune receptors," it states that certain drugs would bind specifically and reversibly to some of the highly variable antigen-specific receptors in a direct way, instead of covalently modifying the MHC-peptide complex, which are the 2 feasible "partners" to accommodate allergy-inducing drugs. Such a drug-TCR interaction would be metabolism and processing independent and in fact mimics drug interactions with other nonimmunologic receptors. Although the MHC-peptide complex would not contribute (much) to the binding energy, it would still be necessary (1) for full T-cell activation and (2) to direct the cytotoxic immune response to a target cell. This model has been elucidated for TCR, but it is possible that BCR on B cells are activated via a similar mechanism.
Table 1
The p-i Concept-Pharmacological Interaction With Immune Receptors
A chemically inert drug, unable to covalently bind to proteins, is still able to fit into some of the many immune receptors (as it does into other proteins/receptors). This reversible drug-receptor interaction can, under certain circumstances, activate immune cells specific for peptide antigens, which expand and can cause inflammatory reactions of different types. Such a reaction would not need the generation of one's own immune response to the drug, albeit an expansion of drug-reactive cells may be required before symptoms appear.
Conclusions
A series of clinical and laboratory investigations contradict the hapten model and suggest that the hapten model as the sole molecular explanation for drug-induced hypersensitivity may not be sufficient. We recently proposed the p-i concept, which supplements the hapten concept. In this concept, certain drugs are considered to be able to activate T cells by binding to T-cell receptors and subsequent cell activation. This explains many of the peculiar findings in drug hypersensitivity and opens new possibilities for immunopharmacology, as this drug binding may be stimulatory or inhibitory.
Authors' Affiliations
(1)
Division of Allergology, Clinic for Rheumatology and Clinical Immunology/Allergology, University of Berne, Berne, Switzerland
Copyright
© World Allergy Organization; licensee BioMed Central Ltd. 2008
This article is published under license to BioMed Central Ltd. This is an Open Access article distributed under the terms of the Creative Commons Attribution License (http://creativecommons.org/licenses/by/2.0), which permits unrestricted use, distribution, and reproduction in any medium, provided the original work is properly cited.